Welcome to the NCLS Photo Album -- you'll find NCLS T-shirt designs and logos, buttons and banners, pics of Lil Boo and cute ickle dogs, and other stuff. And, oh, yeah, pics of Andy and Lorne on occasion (:P ) We also have a photo album on our discussion board, with fan pics from cons and other stuff.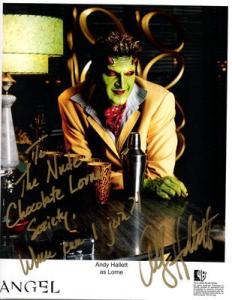 Andy's Greeting to the NCLS
How great is this? Andy autographs a greeting to the NCLS! Thanks to GL for the pic and auto!